EPIC Festival 2022
3rd – 6th of November
Kasbah Tombouctou, Merzouga, Morocco
Discovering the Desert Edition.
From Thursday 3rd to Sunday 6th of November, the EPIC Festival gathers the greatest actors of the world of well-being around a unique and engaging program: workshops, conferences and 4 Fusion Master classes that will elevate the magic of the Sahara desert in Morocco.
The EPIC Masterclasses, your multi-sensory experience.
Each Master Class is the result of a sharp art direction mixing international yoga teachers with an eclectic selection of musicians from past and present. Unique multi-sensory experiences, enhanced by original features like video, projection, dance and other artistic surprises.
Full Programmation
Thursday 3/11 > EPIC Caravane from Casablanca or Marrakech to Merzouga, Morocco
Friday 4/11 – Saturday 5/11 > EPIC Festival with 4 Masterclasses Fusion, Workshops and yoga classes, Desert trip.
Sunday 6/11 > EPIC Caravane back to Casablanca or Marrakech
20 different Yoga classes
Yogis, to your mats! EPIC Festival will boost your yoga practice with nearly 20 different classes, for all levels and all tastes.
20 countries represented
EPIC Festival has over 20 different nationalities represented on stage and among the participants of the events. We are proud to call it an international meeting place for an authentic gathering of people and cultures.
15 types of music
EPIC Festival is a musical collaboration combining electronic DJ´s with traditional music for a fusion of genres as creative as surprising. Welcome to the desert tribe sound edition.
Social impact
EPIC stands for Empower People – Inspire Change. The EPIC movement values ​​human initiatives for social and cultural development.
Fusion Masterclasses Program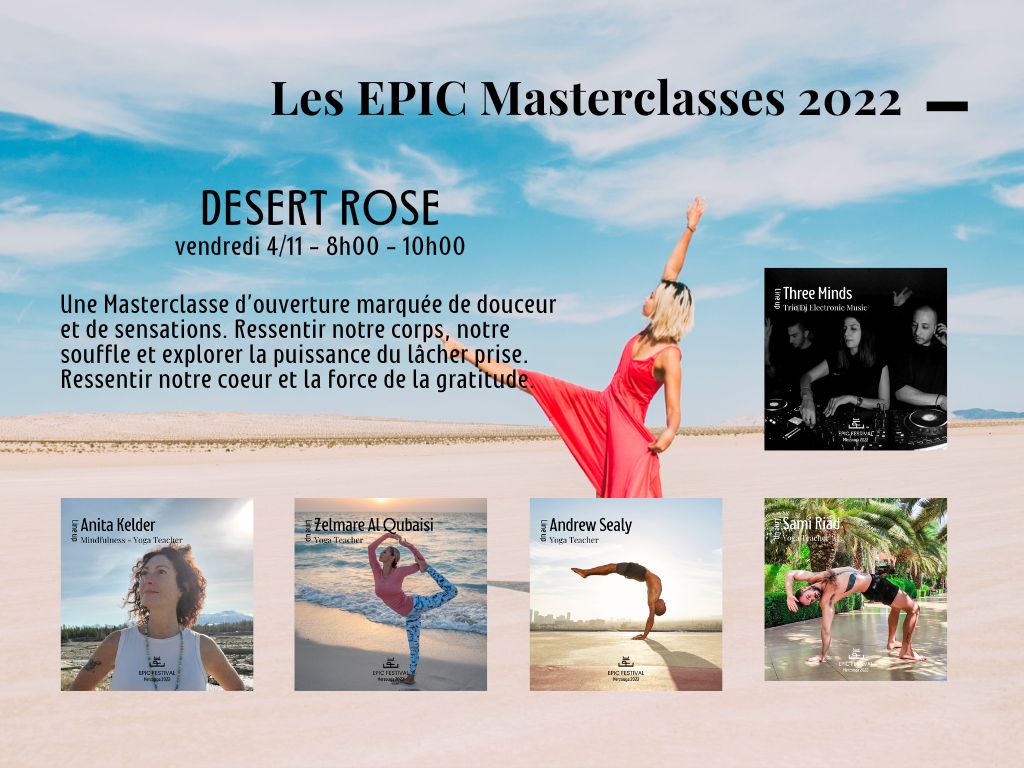 Desert Rose
An opening Masterclass marked by softness and sensations. Feel our body, our breath and explore the power of letting go. To feel our heart and the strength of gratitude.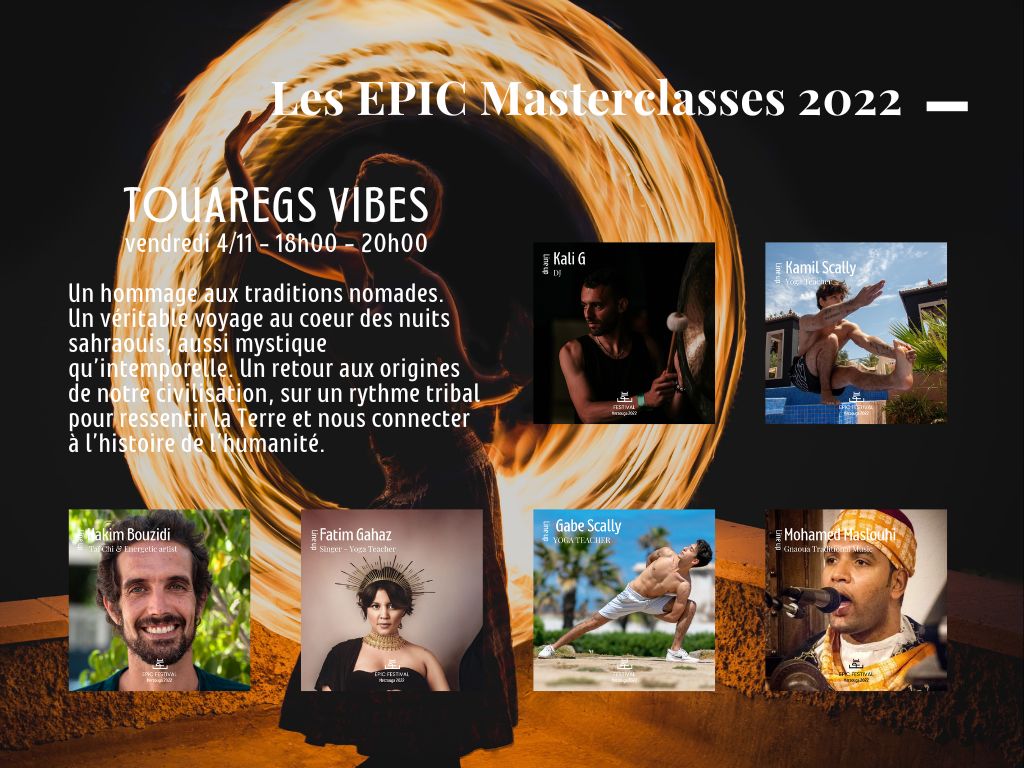 Touareg Vibes
A tribute to nomadic traditions. A real journey to the heart of the Sahrawi nights, as mystical as it is timeless. A return to the origins of our civilization, on a tribal rhythm to feel the Earth and connect us to the history of humanity.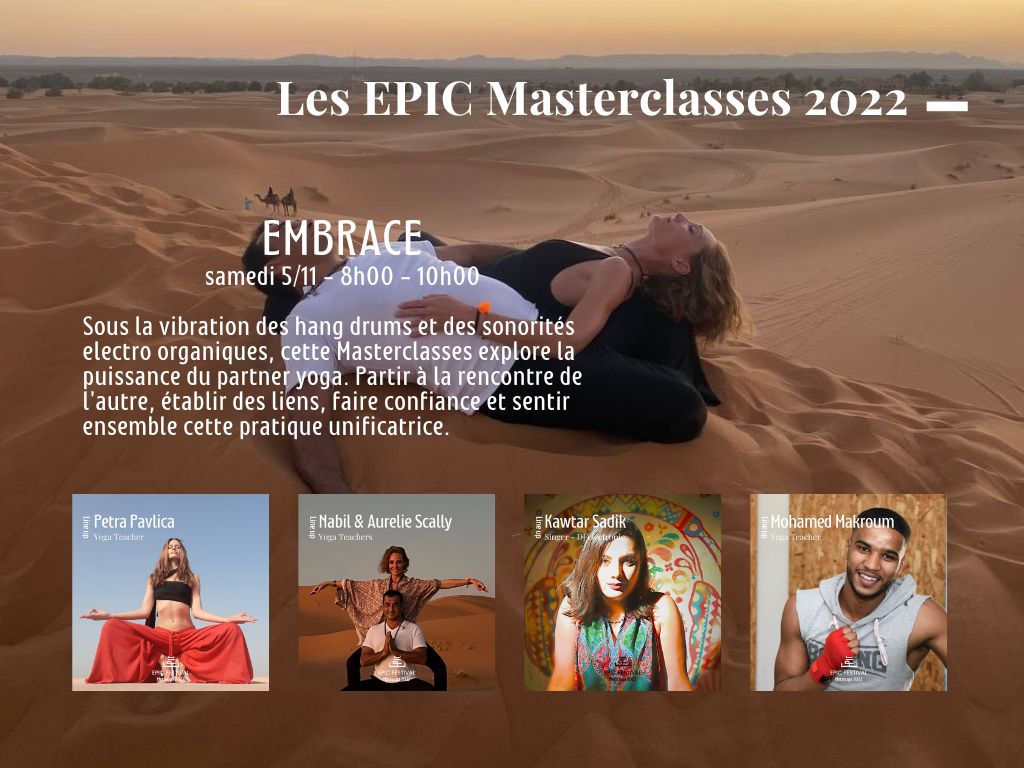 Embrace
Under the vibration of hang drums and organic electro sounds, this Masterclass explores the power of partner yoga. Go to meet the other, establish links, trust and feel this unifying practice together.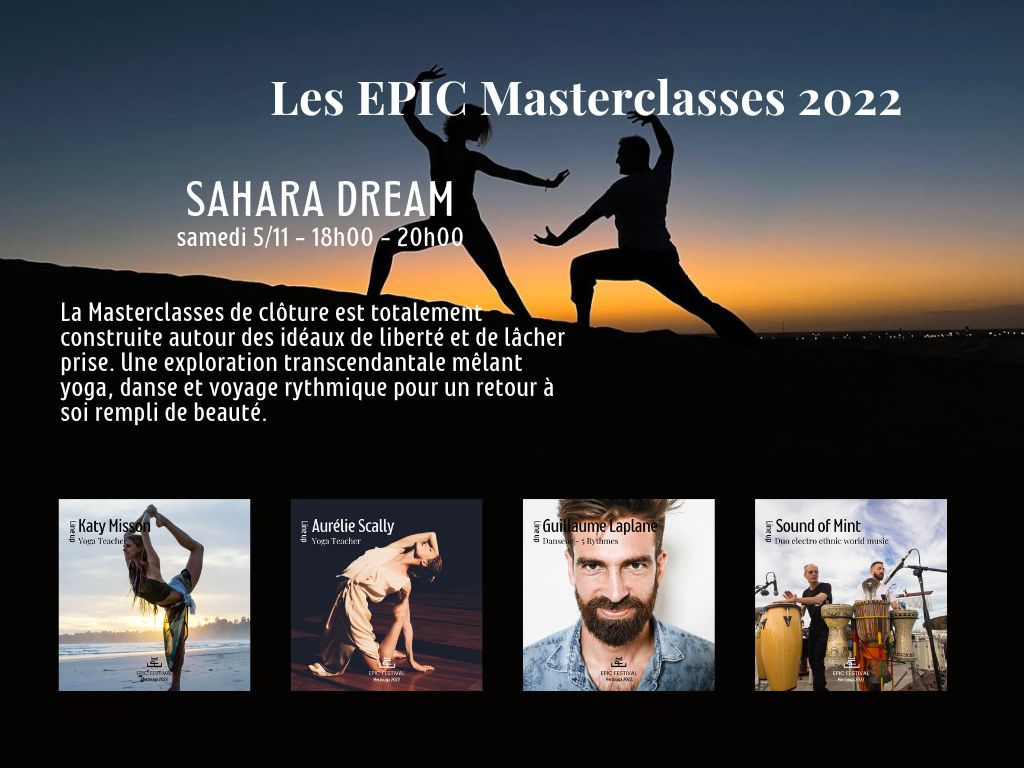 Sahara Dream
The Closing Masterclass are totally built around the ideals of freedom and letting go. A transcendental exploration combining yoga, dance and rhythmic journey for a return to oneself filled with beauty.